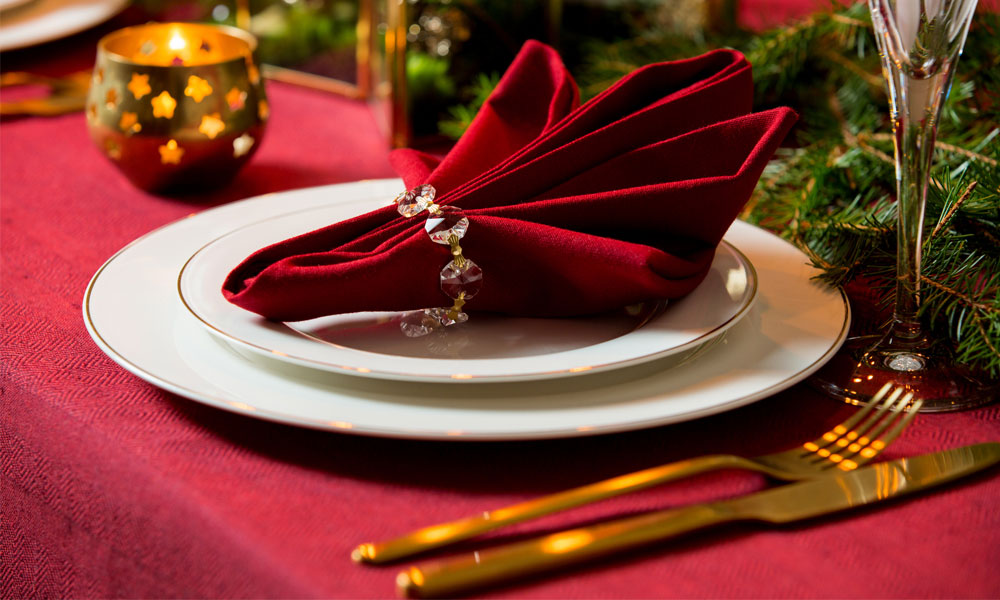 With the darker evenings drawing in, and the days becoming increasingly shorter it is very clear that winter is well on its way, and with Winter undoubtedly comes Christmas. Whether you are eagerly planning the festive season or are already panicking about all you have to do, we have put together some tips, to help you get started.
Christmas Planning
Many people always wonder where the best place to start is, and luckily enough we have the answer. Of course, decorating the tree and planning the Christmas dinner are both very important. However, as your table remains a focal point throughout the whole of the festival period then planning for the decorating your table should be one of your first tasks. It can be very challenging to know exactly how to decorate it and what items you need on your table this Christmas, so we have created this quick guide to help:
Christmas Tablecloth Options
The tablecloth is a great place to start. It will most likely be the first item you lay on the table. Choosing a tablecloth can be tricky. There are many different types, made from different materials, such as cotton, linen, polyester, vinyl and paper. We recommend going for one which will add festive decoration, but ultimately protect your table from the numerous plates, bowls and dishes which will be being passed around on Christmas day. It may also be worth considering a tablecloth which can be easily wiped, if you are expecting a lot of guests, especially a few younger visitors. After choosing the right Christmas tablecloth for you and your guests, it is time to look at table runners. There are many different sizes and designs you can choose from. You can either have an elegant runner to add style to the table or fun and decorative themed runner.
 Christmas Napkins
Once you have the base of the table in the tablecloth then you can move onto other items. Many people have some 'special' napkins that they only bring out on certain occasions, and Christmas is one of them. However, if you haven't got any napkins sorted, they are a must-have. We all have that one family member that will spill gravy all over themselves. Therefore, make sure you have lots of napkins. Whether you choose to purchase cotton reusable napkins or some paper Santa themed ones, make sure you place them generously around the table.
Candles and Tea Lights
In many households, it is a tradition to have a Christmas candle and burn it during the festivities. But they don't only have to be for religious reasons, candles make great centrepieces for any table. Not only do they create a warm glow, but many also produce a vibrant wintery scent, perfect for celebrations.
 Name Place and Christmas Crackers
The finishing touches to any table are the name places and Christmas crackers. If you are expecting a lot of visitors over the period or on Christmas day itself, it can be really helpful to layout name places to help everyone find their seat. These can be hand made from little pieces of decorated card, or shop-bought for a quicker result. Finally, buy or make some Christmas crackers and lay them along the table for guests to enjoy.
Other Decorative Table Items
The rest of the decoration of the table is really down to your own personal taste, once you have a great tablecloth as a base you can work up to whatever look you are going for. Other decorative items include table confetti or jewels, real or faux greenery to add some nature to the table, pine cones, even baubles and other tree decorations look amazing scattered around the table or collected together in a vase. Flowers also look lovely at Christmas, deep reds or whites for a wintery feel will all combine to make your Christmas table the best you have ever had.
These are our must have items that you need on your table this Christmas, however feel free to add any additions!