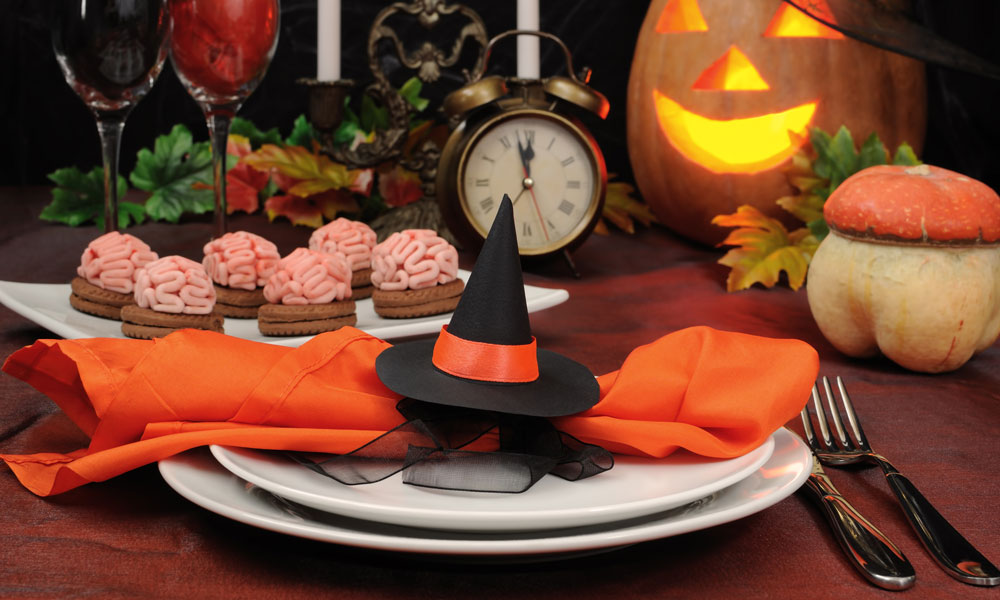 Halloween is coming and who doesn't love a great Halloween party? When it comes to creating the perfect spooky gathering then you may be focussed on the costumes or the food, but one thing you don't want to overlook is how you dress your table. Whether you are having a family pumpkin gathering or a gothic adult party your table is going to be the centre of attention and so it has to look amazing.
Halloween Themed Table
Creating an unforgettable Halloween party is easy because you have so much choice and so many different themes and options to choose from. From sophisticated Victorian glamour to pretty pastel pumpkins and everything in between you can choose the Halloween look that most matches your style. The one thing you won't want to forget however is a great tablecloth to us as a base for your Halloween party.
Here are a few great ideas on how to create an impressive and easy to do Halloween Table:
Kids Pumpkin Party – Carving pumpkins to decorate the home and table at Halloween is more popular than ever and a great family activity. Carving pumpkins around the table is a great way to engage (especially younger) kids in the Halloween Spirit as you don't have to make the Pumpkins Scary. As you will be carving pumpkins at the table ensure you have a great wipe clean tablecloth, and perhaps a table protector underneath to catch any knife slips. Vinyl tablecloths in browns, yellows or reds will reflect the season without being too spooky for kids. Perhaps finish your pumpkin party with pumpkin pie for everyone and then place your finished pumpkins in the dark and light them for their full effect.
Victorian Gothic Dinner Party – There is nothing that screams Halloween more than the Victorian Gothic, a glamorous theme for any dinner party that lets you decorate the table and theme the food that match this fun Halloween vibe. Easy for your guests to find or create costumes and the table is easily dressed in items from around the home. Lots of candlesticks, the longer the better, roses and other season flowers gathered in the middle of the table. A black vinyl tablecloth looks amazing overlaid with either paper or lace place settings to add that Victorian feel. Skulls, skeletons and other Halloween ephemera can be bought inexpensively from high street shops to add to the vibe.
Scary Cinema Screening – If you are turning your home on Halloween into a gathering for friends to watch a scary or Halloween themed movie then you are going to want to provide some food. A buffet table works well at this type of party so guests can help themselves throughout the evening and the movie. Using a vinyl tablecloth in Halloween Colours is a must for this type of buffet, if you are viewing the movie in the dark (of course you are) it is more than likely things we be spilled on the tablecloth and so a quick wipe clean is essential to keep the party flowing. Consider providing food and nibbles that match the movie you are watching or create a unique spooky cocktail inspired by the story.
However, you celebrate Halloween, and whatever your personal style, the key to a great party is a welcoming and inviting (even if it is spooky) table where your gests are wowed and where the table settings add to the flavour of the evening. Tablecloths are the centre and heart of anchoring any table setting and wipe clean options are brilliant making your role as the host easy. For the full range of amazing tablecloths visit our website at https://www.tableclothshop.co.uk